Alice's Adventures in Numberland
by Alice Silverberg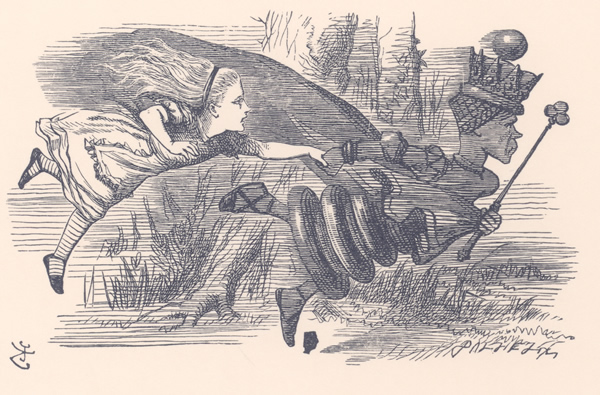 Over the years, I've told colleagues and friends about things I have seen or experienced. Many times, people have said that I should write them down so that they won't be lost and forgotten, since some of them might be useful parts of our history. I've been writing them down, without being sure what I would do with them. I decided to gradually post them on this website, and see what reactions I get. Thoughtful feedback would be useful for me, and would help me to revise the exposition to make it as useful as possible. I hope that while you read my stories you will ask yourself "What can I learn from this?" I'm particularly interested in knowing what you see as the point of the story, or what you take away from it. Please send feedback to asilverb@gmail.com. Thanks for taking the time to read and hopefully reflect on them!

---
Posted December 1, 2017
Why is this job candidate like a writing-desk?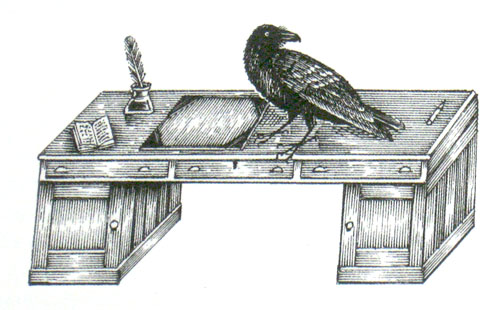 Mr. Big had big demands, according to the department Chair who was trying to hire him. He wanted a large salary, an ample slush fund, a nice office, and a tenure-track assistant professorship for his wife. The Chair told the math faculty this last demand as if it were equivalent to negotiating for a large desk. Lewis Carroll asked "Why is a raven like a writing desk?" I wanted to ask "Why is this woman like a writing desk?"
It was one of the first departmental hiring committee meetings since I arrived at Ohio State. Mr. Big's qualifications were stellar, but my colleagues were worried that he was too much of an "operator" and that things might sour after we hired him. We didn't discuss the qualifications of "Mrs. Big." The Chair's case for her was "If we want Mr. Big we have to hire his wife. If we later decide that we don't like him, we just won't give her tenure when she comes up for it." In other words, if we don't like him, we can get rid of them both in six years by kicking her out, independent of her qualifications for tenure.
I was new and didn't know the rules, but I was pretty sure this wasn't in the tenure rulebook. If it went unchallenged, did that mean it was being agreed to? As the faculty member with the lowest seniority, I didn't want to risk my own chances for tenure by speaking out; I signaled to others more senior than me, but they didn't want to get involved.
Finally, I raised my hand and said meekly, "I'm sitting at the back where it's hard to hear. Perhaps I heard wrong. Surely we wouldn't deny her tenure just because we don't like him?" The chair of the hiring committee quietly and briefly said something about how we wouldn't do that.
The next day I ran into the department Chair's wife, while she was photocopying his exams for the course they were both teaching. (She had recently earned a PhD in mathematics education and was a lecturer in the math department.) She had heard that I had challenged the department Chair at a faculty meeting. She told me that wasn't in my best interests.
She had been friendly to me in the past. She had told me tales of growing up in Brooklyn, and learning that her family was in the Mafia---she'd complain about some bully and the next day her cousins would break his kneecaps.
Sometimes there's a fine line between friendly advice and a threat. I was very protective of my kneecaps for the next few weeks.
The committee voted for a fancy job for him (they could hardly not; he was Mr. Big after all), but only a temporary instructorship for her. While these may have been the correct decisions based on their qualifications, someone told me that it was merely a face-saving way of saying no to him. The department Chair, embarrassed about not meeting Mr. Big's demands, went against department rules and didn't make either offer.
I never found where in the rulebook it said that we could deny someone tenure because we don't like her husband, but maybe that's because I hadn't been given a tenure rulebook. Thankfully, my kneecaps are still intact.
---
Posted November 21, 2017
The Obvious Suspect
Professors P and Q sat across from me in the mathematics common room at the University of Cambridge. They were American professors, visiting the UK from a large midwestern university. I was an American student, visiting Cambridge on a fellowship for the 1979-1980 academic year. I was reading a mathematics text, trying to mind my own business.
P and Q were deep in discussion, trying to answer the question "Why are there so few female mathematicians?" Since they were Americans, I could hear every word.
They examined the premise that it was due to prejudice and discrimination. They rapidly dismissed that, on the grounds that the people in power in mathematics were just like them, and they were obviously good people who couldn't possibly unfairly discriminate or succumb to prejudice. Much as I tried not to eavesdrop, from that point on I felt as if I were listening to two bumbling detectives trying to solve a murder mystery. They had ruled out the obvious suspect. Who were they going to declare to be the culprit, and how were they going to get there? I had heard such debates many times before, so I had my suspicions about where they were heading. Nonetheless, I ardently hoped for better.
They eliminated one premise after another. Could it be lack of opportunities? Surely not. Lack of interest? Well, maybe, but that wouldn't fully account for it. They considered everything they could think of, until they were left with only one option.
At that point, I just couldn't restrain myself. It was clear what they were about to say, and I didn't want them to say it. Too many times had I heard (always male) professors conclude that women weren't as good at mathematics because they were genetically inferior.
I introduced myself to P and Q, apologized for listening to their conversation, and told them that the answers to their question were prejudice and discrimination. (Actually, it's likely I told them there were three reasons: "discrimination, discrimination, and discrimination", alluding to the adage about real estate and location.) I pointed out that Ivy League universities had only recently begun to admit women, and were, even then, doing so in small numbers. I told them some recent stories about Harvard, from personal experience. And I pointed out some facts about the recent history of (and discrimination against) women at Cambridge.
I don't know whether any opinions changed. Their minds were probably made up before they started. But they listened politely, even though I disagreed with them. (I wish that happened more often nowadays!)
---
Posted November 11, 2017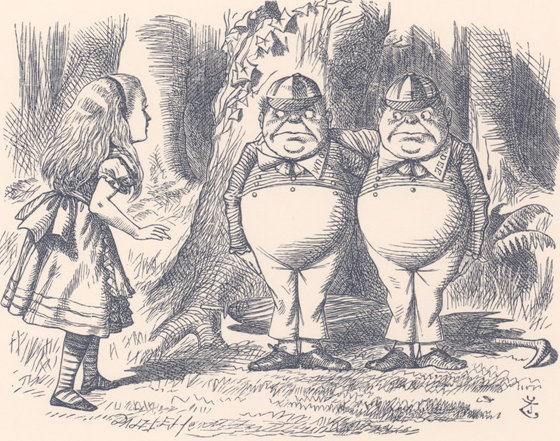 People choose people who remind them of themselves
Here's a game. Look at the list of invited speakers for a conference, and guess the demographics of the organizing committee.

I can often correctly guess a lot about the nationalities, ethnicities, or genders of the organizers from the speaker list. Sometimes I can even correctly guess names of organizers.

I recommend playing the game. How much about the conference organizers can you guess from the list of speakers?

There are times when I've asked an organizer why the list of invited speakers is all male, and his reply is that the women in the field aren't good enough, the men are just better. I've gotten similar responses when a speaker (and organizer) list is disproportionately Dutch, or French, or of a particular ethnicity.

At a certain Ivy League university in the 1990s, the junior faculty attended a meeting where the (all-male) senior faculty decided which undergraduates would graduate summa cum laude in mathematics. Afterwards, some of the junior faculty told me they were upset and concerned because a female student with high grades in hard courses was passed over in favor of a male student with lower grades, after a senior faculty member said that the man reminded him of himself at that age.

People choose people who remind them of themselves. Then they rationalize it by saying that such people are better.

I like merit-based systems, and I'm not advocating for quotas. And if financial constraints mean that local speakers are preferred over those with more expensive travel costs, that's understandable. But sometimes it helps to be reminded to give full consideration to people different from oneself or one's friends. I hope that things have improved, and that the organizer-guessing game isn't as easy as it used to be.

The game has a second part. If the speaker and organizer lists are skewed in the same direction, ask yourself whether the argument that the over-represented group is just better feels right to you. If it does, do you belong to the favored group?
---
Posted November 7, 2017
Isomorphic students
Miriam and I didn't think that we looked alike. But whenever Professor W handed back the homework in the course we took from him, there was a 50-50 chance that he'd hand me Miriam's homework, and hand her mine. We were the only female students in the class.

At first we exchanged homeworks discreetly so as not to embarrass W. Eventually we didn't bother, and would even walk across the room to trade papers. At some point W noticed and commented on it, but he never learned to tell the difference between us.

When I ran the above past Miriam, she replied "But there's more. That was back in the 70's. In the 80's I had a similar experience at work: there were just two female programmers, and we didn't look alike at all. Still, we were often addressed by each others' name. Things got better at my next two jobs, but only because I was the only woman programmer. I'd like to say things have improved since then, but then I saw this recent FaceBook post from [Harvard Computer Science Professor] Margo [Seltzer]."
---
Posted October 29, 2017
"You argue like my ex-wife!"
T and I have been arguing since we met at a conference years ago.

During one fight, he said in annoyance "You argue like my ex-wife! She never lets me win!"

He was still trying to win an argument with his ex-wife. Since she was no longer around, he used me as a surrogate.

This was neither the first nor the last time that I saw a man use a woman from his professional life as a surrogate for his ex-wife, ex-girlfriend, wife, mother, or daughter. And it's led me to wonder to what extent people (of all genders) view their female colleagues as part of their personal lives, not their professional lives.

At a later conference, I realized that T and I were getting along quite well. Had I improved my interpersonal skills? That would have been nice. No, that wasn't it. He and his ex-wife had gotten back together, and they were happy. Fighting with me no longer filled his need to try to win an argument with someone who wasn't there.
---
Posted October 19, 2017
"What can I learn from this?"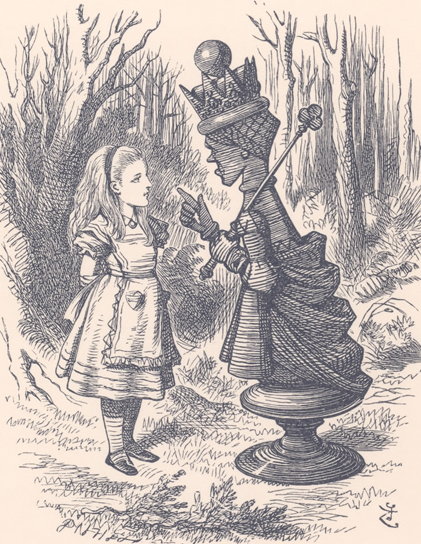 or: Some things I wish I'd learned sooner
Click here for the post. The article will appear in abridged form in MAA FOCUS. While it's written for mathematicians, I hope that others will find something useful in it.
---
Posted October 13, 2017
The Case of the Writer and the Schoolteacher
I've long been troubled by the Case of the Writer and the Schoolteacher.

A high school math teacher applied to the Ohio State mathematics graduate program with the goal of teaching in a college or community college after obtaining a PhD. She had already started working towards her goal by getting a Master's degree. Her application made perfect sense to me, so I was surprised to read the evaluations of her file by some of my (male) colleagues:

SHE'S 41!!! I DON'T UNDERSTAND WHY THIS WOMAN WANTS TO GO BACK TO SCHOOL!

and hear the emotion in their voices when they spoke against her application at the graduate admissions committee meeting. You might think that a mathematics professor could have correctly calculated that she was only thirty-something, but even for mathematicians, one's cognitive skills decline when angry.

Several months later, near the end of the admissions season, an application arrived from a man who had made his career as a writer. It wasn't clear to me why he wanted to earn a mathematics PhD. Though he was older than the math teacher (whose age seemed to be a concern to my colleagues), and he hadn't gotten a Master's degree, my colleagues' evaluations were glowing. They said he was a mature, well-motivated adult, and that it would be a pleasure to have him in our classes.

It's curious how I and the rest of the committee could have read the same files so differently.
---
Posted October 8, 2017
These are things that would help everyone!
The Dean of the College of Mathematical and Physical Sciences (MPS) at Ohio State University invited the female MPS faculty to lunch at his home to ask us what he could do to help women.

He lived out of town so it was a bit of a drive to get there. Why did he want us to meet at his house? He said that since we were women, he decided we would feel more comfortable at a home than at the university.

It's too bad he hadn't asked us what we preferred. Some of us were not pleased that we had to take time away from work to go there and back, arrange carpools, etc.; it would have been more convenient for us if the meeting were on campus. (Given the quantity of leftovers that his wife put into their refrigerator after the lunch, I cynically wondered whether the leftovers were the real reason he wanted the meeting at his house.)

At the lunch, we went around the room giving our advice. We stressed the need for fairness, transparency, accountability, and knowing the law and following it. When we were done, the Dean looked upset, and said "But, but, ... these are things that would help everyone, not just women!"

"That's right," we replied.

"But I want to do things that help women!"

We told him that what helps everyone helps women.

He didn't seem happy about that.

Why did he seem to lose interest when we didn't tell him things he could do specifically for women? Some of us wondered if he was using the Deanship as a stepping stone to a higher position; perhaps he was mostly interested in adding a line to his CV about how he helped women? Soon after that, he left OSU to become President of a different university.

The trip to his house would have been worth it, if only OSU had taken to heart our suggestions about fairness, transparency, accountability, and knowing the law and following it.
---
Posted October 4, 2017
"Who's on first?"
"I'd like to speak to Mr. Silverberg" said the voice over the phone in my office.

"There's no Mr. Silverberg here," I replied.

"Is this the number for Dr. Silverberg?" he asked.

"Yes."

"Well, when can I speak to Mr. Silverberg?''

Perhaps I had been watching too many Marx Brothers films, or too much Abbott and Costello. "There is no Mr. Silverberg at this number."

"But isn't this Dr. Silverberg's number?"

"Yes."

"Well, can I speak to Mr. Silverberg?"

"There is no Mr. Silverberg at this number."

"But isn't this the number for Dr. Silverberg?"

"Yes."

"Well, who are you?"

"I'm Dr. Silverberg," I said calmly.

Stunned silence at the other end.

Then, "umm ... I'm an insurance salesman."

A long pause, and then he continued, "I guess I'm not going to be able to sell you anything, am I?"

"I guess not."

I felt sorry for him. Maybe I was too cruel. But perhaps the conversation was memorable enough that he learned something.
---
Posted September 28, 2017
Women at Harvard
Below is a link to remarks I delivered at a panel entitled "Lawrence Summers: One Year Later" at the Joint Mathematics Meetings on January 12, 2006.

At the Q&A, an audience member said that I had unfairly attacked Harvard and he needed to come to Harvard's defense. I pointed out that the text I had read did not include my opinions and consisted of a compilation of quotes and facts, largely from Harvard-related sources, especially a text by Drew Faust who was at that time a Harvard professor and Dean. (Faust has been President of Harvard University since July 1, 2007.) What do you think? Was the text an unfair attack on Harvard, or a compilation of quotes and facts?

You can click here for the text. While most of the links are now dead, some of the references can be found by searching for the titles online. If you just want something short, I suggest jumping to the end to my Q&A responses, starting with "Testing".

The piece appeared in the Newsletter of the Association for Women in Mathematics along with some of the write-ups of other panelists' remarks. AWM Newsletters are available here.
---
Posted September 23, 2017
Letters of recommendation for women
A distinguished and influential mathematician whom I'll call Y sat next to me in the computer room at a mathematics research institute one evening. Y was having trouble with a word processing program, and asked me for help. I happily obliged.

When I realized he was writing a letter of recommendation, I looked away, assuming it was confidential. This made it harder for me to help him. Possibly just as a way to let me know that it was OK to look and to continue helping him, Y asked me for advice on the letter.

So I read it. The gist was something like "Susie is a lovely person. It was a pleasure having her in my class." Nothing about how well she did in the class.

I asked some questions, and learned that Susie was an undergrad applying to professional schools. I asked Y how Susie did in his class; what sort of grades did she get on the exams and homework? He told me that she got the highest or second highest grade on each of the exams and homeworks, giving her the highest total score in the class. I gently asked what he thought about including that information in the letter. He asked if I thought that was a good idea. I replied, "Yes".

I've had other similar experiences over the years. My experiences are consistent with studies that conclude that letters of recommendation about men are written differently than those about equivalent women. The ones about women talk more about her personal life, while the ones about men include more relevant adjectives and information, and fewer "doubt raisers".

My experiences are also consistent with studies that conclude that people read letters about men and women differently, and perceive equivalent letters to be stronger when the subject is male than when the subject is female.

See for example https://www.cerias.purdue.edu/site/images/uploads/Discrimination_gender_memo_07-12.pdf and the references therein.
---
Posted September 18, 2017
Changing Places
The September 15 story about collecting plates reminded me that at seminar dinners, when I sat down next to that same department chair, he would get up and make his wife change places with him, so that I sat next to her instead of him. He didn't do that with anyone else. While I liked her and enjoyed talking with her (despite the incident with the plates), sitting next to her made it harder for me to talk to the mathematicians or participate in the discussions about mathematics.

Such incidents could be viewed as in some sense trivial (though they can have tangible effects on one's opportunities and career). But to borrow the title of a marvelous book by Paula J. Caplan[1], dealing with this type of treatment time and again eventually feels like lifting a ton of feathers.

A number of people have encouraged me to continue posting my adventures, since knowing that others are having similar experiences makes them feel less alone. I found Caplan's book to be very useful, and recommend it to those who might benefit from a survival guide and those who want to learn more.

------------------